Taxi Service in Gorakhpur
Call Now : +91 7394864577
Trishna Tours and Travels Provides 24x7 Taxi service in Gorakhpur
AT Trishna Travels we offer our customer satisfactory services through our Main Branch. You can Book your Taxi online in Gorakhpur with us. To book your taxi with us, call us, you can also confirm your Bookings with Whatsapp, So Chat, and Book Now!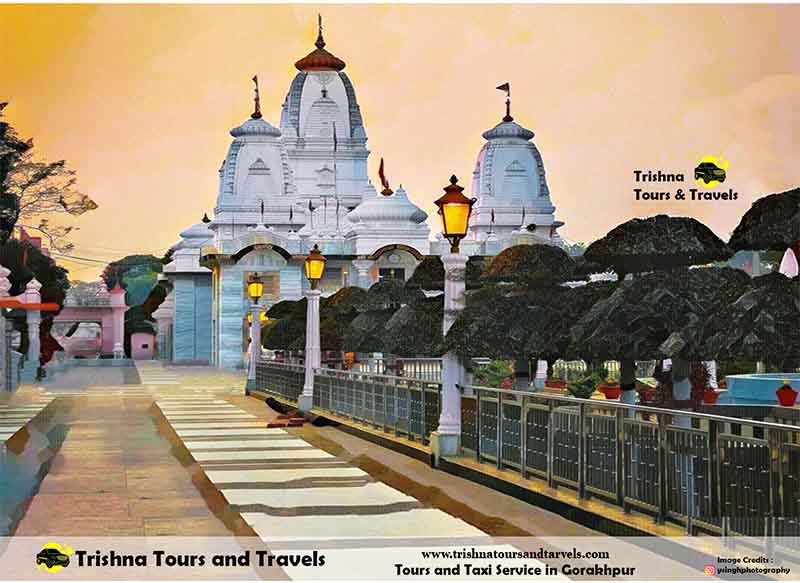 Book Now
Book a Taxi in Gorakhpur for local and Outstation Trips.
Starting from* :
| | |
| --- | --- |
| Dezire/Amaze | ₹12 |
| Ertiga | ₹14 |
| Innova/Marrazo | ₹16 |
| Innova Crysta/XUV | ₹18 |
Per Kilometer Rates, Minimum charges (200-250 km) applicable, Rates as per availbility only*

Get a Free Quote
Book Cabs in Gorakhpur and Nearby
Our Services includes Car Rantal,Cab Booking, Local taxi and Outstation Taxi Overview of Our Taxi Services in Gorakhpur :

Outstation Taxi Booking
Do you Want to Book an Outstation taxi from Gorakhpur? Then You are at the right place! We offer the best one way and roundtrip taxi rates in the city.
We promise to provide the best available taxi for your all outstation rides from Gorakhpur at extremely affordable rates!
With Our Outstation Taxi Service, you can book Sedans, SUVS, Ertiga, Innova and Tempo Travellers from Gorakhpur to anywhere in India. You can plan a One way or Roundtrip trip with us.
Popular cities to travel from Gorakhpur via Taxi :
Gorakhpur to Lucknow from Just Rs.5,499 only.
Gorakhpur to Varanasi from Just Rs.4,999 only.
Gorakhpur to Ayodhya from Just Rs.2,999 only.
Gorakhpur to Sonauli from Just Rs.2,499 only.
Click on the list above if your query is in the list else contact us now to book an outstation taxi with us!
Our Outstation Taxi Rates
Excluding : Toll tax, Parking, Driver's allowances and any State Tax. Please Note Fare is charged for Both sides even in case of Drop taxi service. Kilometer Charges from Gorakhpur garage to garage only.

| Vehicle | Drop Per km x 2 | Roundtrip Per km |
| --- | --- | --- |
| Dezire/Amaze | ₹12 | ₹12 |
| Ertiga | ₹14 | ₹14 |
| Innova/Marrazo | ₹15 | ₹16 |
| Innova Crysta/XUV | ₹17 | ₹18 |
Local Gorakhpur Taxi

At Trishna Tours and Travels, we provide customer's budget Friendly and prompt Taxi Service. It's Either within or Outside the city taxi, we are here to take the charge of all your cab requirements in Ayodhya. We have Designed Budget-friendly local Taxi packages for our customers so that you can Enjoy your Ride within the city with peace in mind. We Aim to Provide the best and Prompt taxi Service in Ayodhya to our customers at Best and reasonable price.

Daily Rental Taxi
Daily rentals are the best way to spend your time in City and especially cities like Gorakhpur. We offer daily or Hourly car rentals which are best suitable for both Personal and Business Purposes or City tour packages. our Daily rentals taxi Service in Gorakhpur Start at just Rs. 1,000/- Hurry up a book now!

Innova Crysta rental in Gorakhpur

We offer Innova Crysta cabs and Similar XUVs and MPVs in Gorakhpur Our Fleets includes old Innova Cabs , New Innova Crysta and XUV 500.
Rates : Rs.4,500/- 12 hours -250 km Extra KM @Rs.16 per km. Charges do not include - Toll Taxes, Parking , Driver's allowances and State Taxes.

Airport taxi Transfer Gorakhpur

We Provide Hassle-Free on-time Airport Taxi Transfers in Gorakhpur

Railway Station Pick and Drop Cabs

Never Miss Your Next Train! We offer chauffeur Driven Railway station Pick and Drop Cabs in Gorakhpur which helps you to get on time.

Our Taxi rates in Gorakhpur
We offer a very Wide Range of Taxi Service options in Gorakhpur as Discussed Above. We Do Even offer tons of Taxi / Fleet Options to choose among i.e. Hatchback, Sedan, Suv's, Mpv's and Premium or Luxury Cars and Vans.Therefore Rates as per car and service choice vary in different ways, for example, we offer Rs.11 per km Rate for local Gorakhpur taxi, while we do offer same category cars for long outstation, trips at 10 Rupees per KM.

The Rates which we offer for taxi in Gorakhpur city are discussed below -

Local Cabs and taxi in Gorakhpur
Local Cab and Taxi charges may not be valid during onn-seasons please confirm the same by contacting us.

FInding a local Cab in Gorakhpur? Trishna tours and Travels provides local Cabs for Railway Station Pickup and Drop and for Airport Transfers too.

Fare for Local cab in Gorakhpur city are -

Airport Transfer Cabs
| Cab type | Airport to Railway Station | Airport Tranfer up to 10 KMs |
| --- | --- | --- |
| Dezire/Amaze | ₹700 | ₹900 |
| Innova/Ertiga | ₹1,500 | ₹1,500 |
| Crysta/XUV | ₹2,000 | ₹2,000 |
Railway Station Pick and Drop
| Cab type | Up to 10 KMs | Up to 20 KMs |
| --- | --- | --- |
| Dezire/Amaze | ₹900 | ₹1,250 |
| Innova/Ertiga | ₹1,500 | ₹1,750 |
| Crysta/XUV | ₹2,000 | ₹2,250 |
Transfer and Pick/Drop Taxi Rates are as per only availability of Vehicles. This Service do not Includes any Hold or Waiting, in this case local taxi Packages↓ will be applied.
Local taxi Packages
We also Provide Local Taxi Packages in Gorakhpur to help our customers as per their needs or requirements.
These Packages are only available for 4+1 Seater Taxi Like Dezire and Swift. These Packages are only applicable as per availability in case of unavailbilty or shortage of vehicle Rates will be discussed with customer while booking.

Local Packages for 4+1 Seater Taxi
| Hours | Kilometers | Price |
| --- | --- | --- |
| 4 Hours | 50 Km | ₹1,200 |
| 6 Hours | 100 Km | ₹1,600 |
| 8 Hours | 150 Km | ₹2,000 |
| 12 Hours | 200 Km | ₹2,400 |
Local Packages for 7 Seater Cabs
| Taxi | Package | Price | Package | Price |
| --- | --- | --- | --- | --- |
| Innova/Marrazo | 100 km 8 Hours | ₹2,400 | 200 km 12 Hours | ₹3,000 |
| Ertiga | 100 Km 8 Hours | ₹2,000 | 200 Km 8 Hours | ₹2,600 |
| Innova Crysta/XUV | 100 Km 8 Hours | ₹3,000 | 250 Km 8 Hours | ₹4,500 |
Other Car Rental : Rs.1,000 + Fuel @10 KMPL for Sedan Cab 4+1 Seater up to 5 Hours.

Extra Charges Rs.200 per hour and Rs.11-14-16 per km | Packages Do not Include any Tax,Toll tax,Parking and Driver's Food allowance / Night allowance Rs.300 after 8:30 pm.
X Not Applicable on Wedding season or High Peaks.

Nepal taxi service from Gorakhpur

Nepal is among the most affordable tourist places, it is great destination for hill stations, a Beautiful and divine place. Even Nepal Being a foreign Country traveling in Nepal is very easy and we Make it easier for our Customers we offer plane taxi rates which include all kinds of custom taxes and permit as well as toll taxes.
So either you are planning to go Pokhara from Gorakhpur or Gorakhpur to Kathmandu our taxis is the best option we promise to provide experienced drive who not only assist you will also guide all the Places During the Visit.

Wedding Car Booking
Wedding is a Festival in Indian Culture, a car is seen as a sign of Prestige in our Society.
Keeping these facts, we offer wedding car booking in Gorakhpur City, Premium and Luxury cars, and cars Ranging From Sedan to Suv's Most Demanded Innova Crysta Cars for Wedding at a very Low Prices.
You can Book Tempo Travellers and Buses on rent in Gorakhpur with us - Here are the Rates,

Glimpses of Gorakhpur City

Gorakhpur is the largest city of Eastern Uttar Pradesh, It has Rich History and Modern Infrastructures, Gorakhpur is a Tourist and Travel Hub due to its Location and Surrounding Places.

Gorakhpur is just 100 km away from Nepal Border Sonauli and 270km away from Lucknow the state's Capital.

Gorakhpur also Shares its border with Bihar state and Routes for Two main buddhists Spots Kushinagar and Kabir Nagar.

Gorakhpur is a speedy Developing city, which is why a large Population around the Districts commute in Gorakhpur Daily for commercial and tour purpose.

We also serve local Gorakhpur tour packages. You can book your customized tour package with us.